Pam Anderson's Powergirl hair now matches her Powergirl boobs
What's new with Pamela Anderson. She's been seen out in public with Rick Salomon. He's bone of her ex husbands. They're apparently back together or something. She recently told Ellen DeGeneres she & Rick are best friends with benefits, and that she doesn't want to meet anyone else because he's such a  great guy. She's also training for the New York City Marathon. Pammy says that the 1st mile is worst but now she looks forward to her workouts. Maybe more importantly Pam cut her long blonde trademark tresses. So what does Pam look like in short hair?? Smeothing like this:
Has Pamela Anderson stolen Charlize Theron's Hair?
When you think of Pamela Anderson the second thing you think of is long blonde hair. Not only does her new do look good on her, but now she's set for the part of Powergirl in any upcoming comic based projects!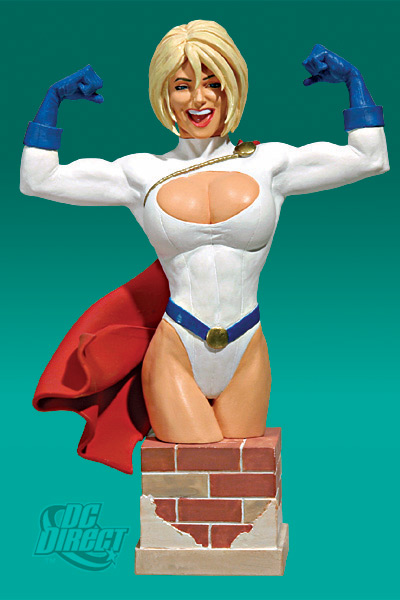 What do Pam Anderson and Powrgirl have in common? Great hairdo's & unbridled blonde boobage!
Covergirl Nicole Kidman gets Gwyneth Paltrow off of the Vanity Fair hook
In other news Gwyneth Paltrow has gotten a reprieve from Vanity Fair. They were gonna put her on the cover in what was being billed as an epic take down. No one was sure what they had, or thought they had, on Paltrow but the rumours were flying fast and furious – Paltrow hexed Madonna in a Hollywood voodoo ritual, Paltrow cooks meth in a backyard still when she's not busy working on GOOP, and she sold state secrets to her country's enemies. It was real outrageous shit but you know how it is once the rumour mill starts spinning it's wheels.
So anyone waiting for the beans to get spilled is gonna be disappointed. VF didn't out Paltrow on the cover as anticipate, or threatened.  Nor is she featured inside. Nicole Kidman graces the cover. Now people might have been waiting of rth big tell all on Gwyneth but Kidman sounds game. She talks about her marriages and threatens to go down in flames if she has to! Inside are a range of article from the worlds most endangered tribes to the Vatican, Wall Street, & Sandy Hook. As for Ms Paltrow's alleged sins and iniquities, it looks like those are gonna have to wait a while. There's no sign of anything in the December VFair.
Nicole Kidman beats out Gwyneth Paltrow for the Vanity Fair cover
Spelling it out – sex & video tapes with good angles
Guess who's got a sex tape!
In other news Tori Spelling and her husband Dean McDermott had their sex tape stolen. Tori reveals that they did it back in 2009 because Dean thought that it would be a good idea. So they set up their little tripod and had at it. After Tori reviewed the tape and since her angles were good she allowed him to keep it.  After that it was only a matter of uploading their little home made prono tape to their computer. Somempasswoird protection might've been nice, as it turned out.
Seems that the computer with the sexy video was stolen by a friend. Tori and Dean knew nothing of this until about 2 years alter when they caught word that someone was shopping the video around. Naturally Tori was horrified. Sot here was a trip to the lawyers, a cease and desist order, and then everything went away right up and until the thing leaked out. Well according to radaronline it leaked!
It's good that Tori tells this too. Even if this is about 4 years after the fact. For one thing Tori has a brand new book coming out. It's a memoir called Spelling It Like It Is. I'd have called it Spelling It Out! No one asked me. Anyway with Tori's book coming out she's bound to get more public attention. Now with the sex tape issue already out no one is gonna get blindsided. So it's very responsible of her.
Of course it might also help hype the book. People will wonder what other mischief she's been up to. Then they might possibly buy the book to find out. I mean if she spills this in an interview how good must the book be? Just think of the 91210 inside tattle! If she can work Brian Austin Green and Megan Fox into it then she's got a PR slam dunk! So when the responsible thing to do also pays it's a win win!
half baked and a little cracked
Meanwhile remember to keep reading Wondertrash, the blog that brings you recycled gossip almost daily, and has it's sex tape in the works!
Wondertrash: Gossip that wears it's spurs!